I was awoken in the middle of the night by the sound of rain drops hitting my tent. While in White Pass, I had heard that it was supposed to rain either Saturday or Sunday, bit the storm was to last less than a day. I was warm and snug in my sleeping bag and didn't mind the rain, which was better off than the guy camping near me who did not put his rain fly on when he went to sleep. I saw his light shine and heard him get up to fix the problem. The latter of rain lulled me quickly back to sleep.
When I woke up at my usual hour of 5:30, it wasn't actively raining but it was cloudy and foggy. I hoped the storm passed during the night so I packed up and headed out.
But luck was not on my side. It started to rain at 7 am and continued throughout the day, merely moderating from a medium shower to a mist and back again.
Most of my route early on was in the forest so other than being wet, it didn't matter much. But then I came to some open ridges and lamented not being able to enjoy the view. I had entered Mt. Ranier national park but I couldn't see anything of the 14,000+ foot peak.
The best views I got that day were of mist covered meadows. They were lovely, but not as majestic as I was hoping for.
Several thoughts consoled me though:
1. I wasn't always missing amazing views.
2. I had been in the area several times before and had seen Ranier just the day before.
3. It was not snowing.
4. I went through Goat Rocks in perfect weather.
5. Huckleberries were ripe everywhere and were as sweet as candy. (I had been enjoying wild berries since northern Oregon, but forgot to mention it in earlier posts.)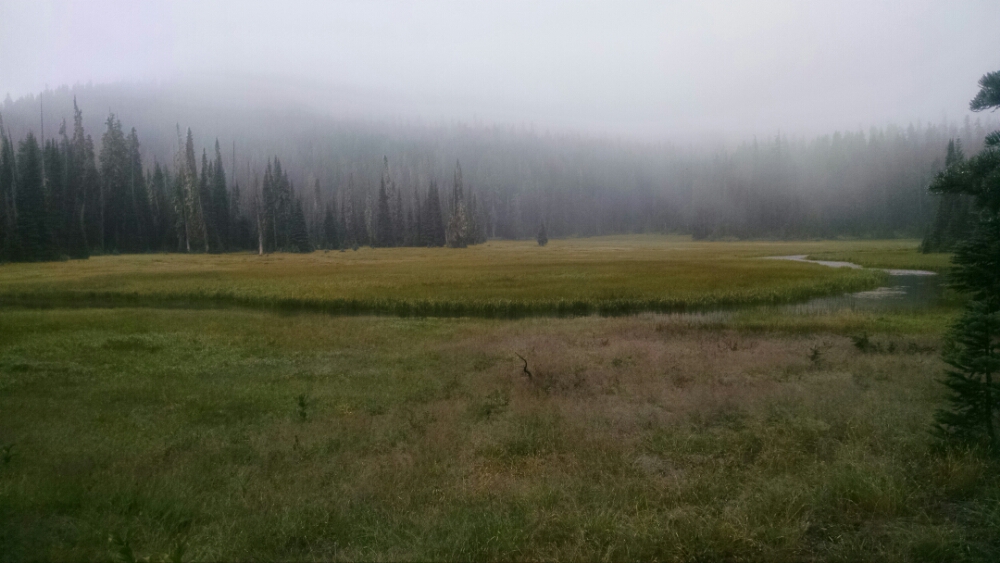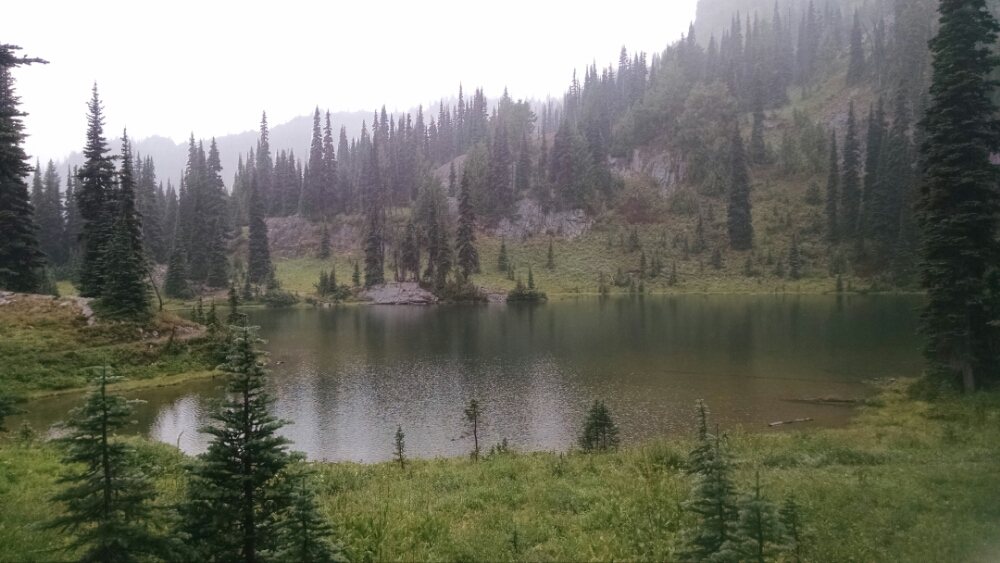 The constant rain and chill put a damper on my mood and enjoyment and I moved very slowly that day. At 6:30 I finally called it for the day after covering only 27 miles.
Sunday dawned slightly brighter but was much colder than the previous day. I was glad for the rain pants I got in Portland; I wore them most of the day, along with my puffy and rain jacket.
In the morning I came to a cabin and stopped in for an hour to dry out a bit.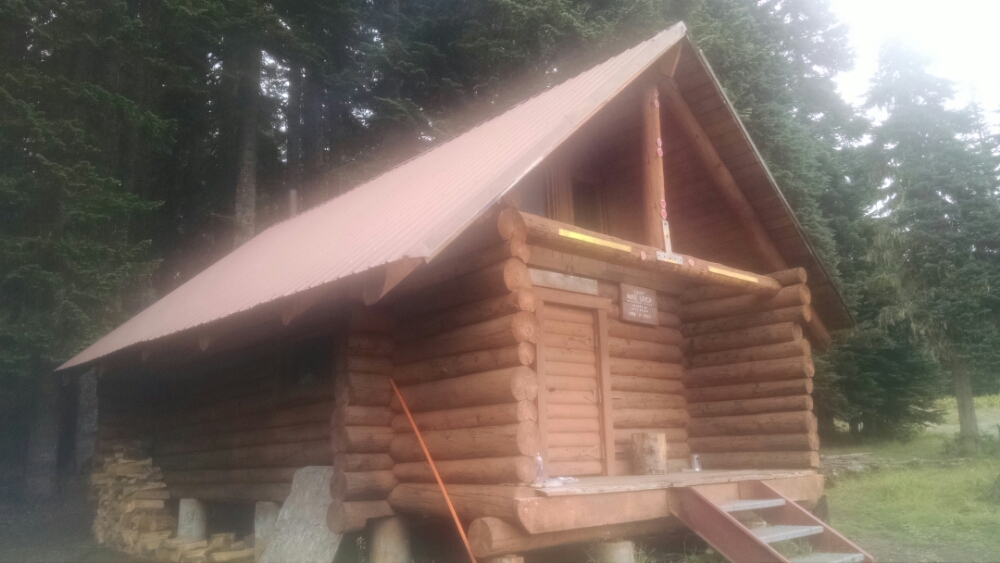 A few hikers were there and had a fire going in the stove. I warmed my feet while chatting with them, and the time passed quickly.
Soon after I got back on the trail, it started raining again. So much for the one day storm.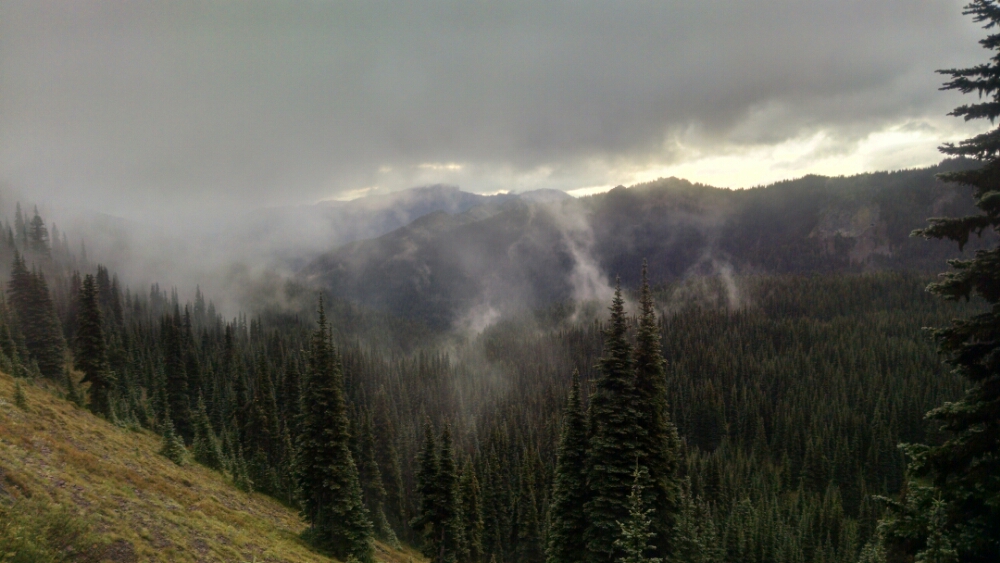 Despite the weather I had regained my speed and hiked quickly all day, stopping only briefly when it wasn't raining. There was no point in looking up because there wasn't anything to see so I put on an audio book or some music and pounded out the miles. Before 7 pm I had gone 35 miles.
My camping options weren't great and I ended up pitching my tent, in the rain, on an exposed saddle. By this time everything was wet, but at least I was able to get warm once I was in my sleeping bag. Three south bound hikers joined me later that evening but I didn't even get out of my tent to greet them. It was a bit funny to have a conversation with them through my nylon barrier.
It rained off and on during the night and I wondered if it would ever stop.
The weather improved slightly on Monday: it didn't rain after 7 am, but remained cloudy all day with a heavy mist in the low areas.
I past several nice lakes, wishing it was warm enough for a swim.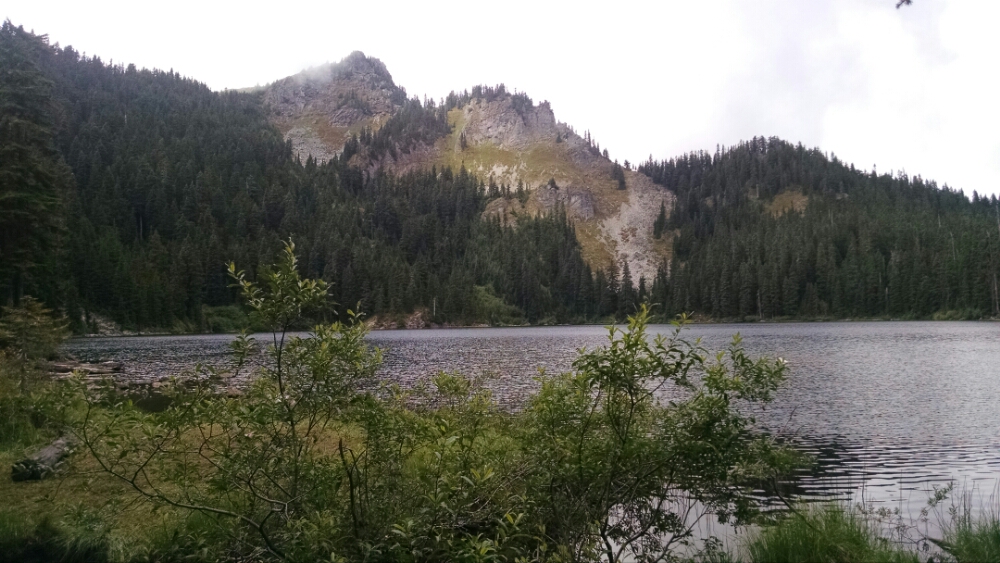 There was no chance of drying things out in the sun, so I set my mind to getting to Snoqualmie pass, just 25 miles away, where an inn was still open for the summer. Originally I was only going to stop at the pass for a few hours on Tuesday, but the foul weather changed my mind.
I arrived in the mid afternoon and spent several hours organizing myself and my gear. I showered, did a load of laundry, rinsed my soaking, dirty tent, then dried it using the fan in my room. I picked up my two boxes at the Chevron Station next door and organized my food. Feeling much better, I had dinner at the attached restaurant then treated myself to a pint of Ben and Jerry's for dessert (peanut butter cup, of course).
It was lovely to go to sleep warm and dry knowing that the storm was finally over and that I could expect good, sunny weather for the next week.