After leaving my campsite near the spring, the trail was nice and rolling. I passed a small lake in the morning and saw a black bear drinking on the other side. It paused for a moment while probably smelling me, then ambled off into the woods. I managed to get a photo with my camera, but not my phone.
Later in the morning, the forest opened up and I got some views of Mt. Adams.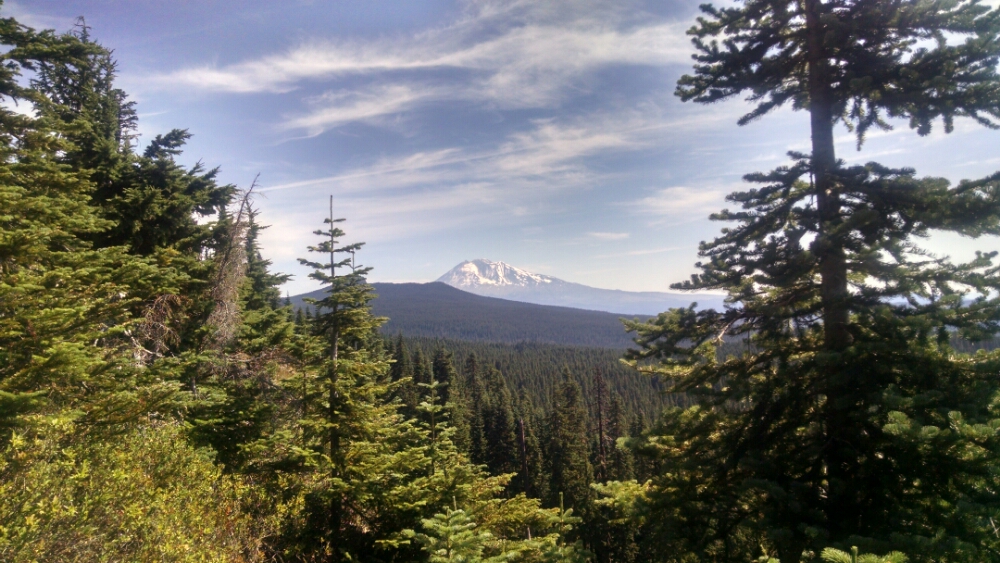 There were also several pretty lakes, one of which I stopped at for lunch.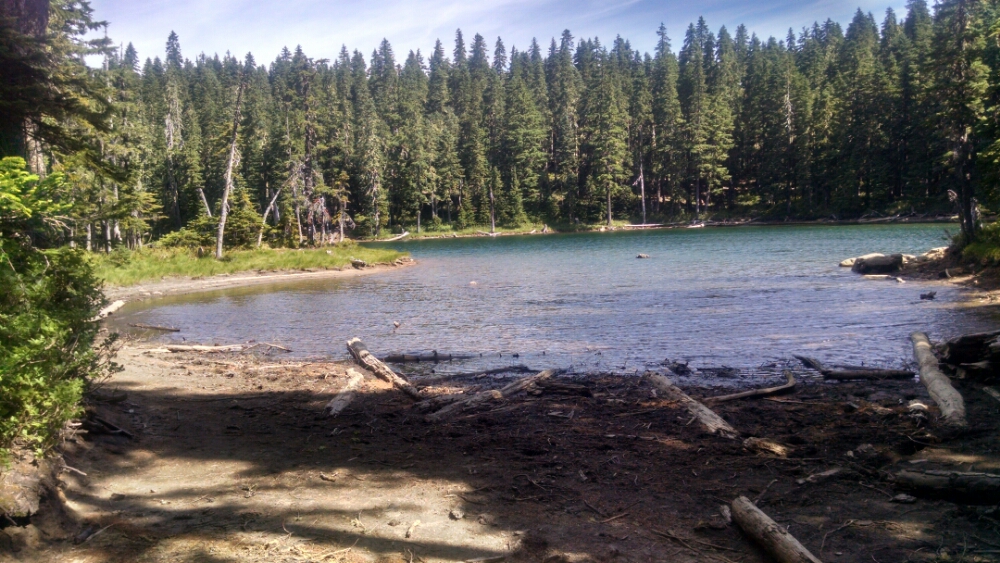 I saw several south bound thru hikers during the day and chatted with some of them. Everyone I talked to said that I am the first female north bound thru hiker that they have seen so far. I'm not sure if I am really the first, but I like the thought and feel proud of what I've done so far.
The day past by quietly without much excitement. I finished 31 miles by 7:30 and camped at Trout Lake Creek with several other hikers. It was nice to get into camp early and chat with people since I don't think I will be hiking with anyone in this section.
The next day there was some uphill before the trail became flat. As I neared the road that leads to Trout Lake, I had amazing views of Mt. Adams. I came within 3.5 miles of the summit (and 6,000′ in elevation) and had perfect views of several of the glaciers.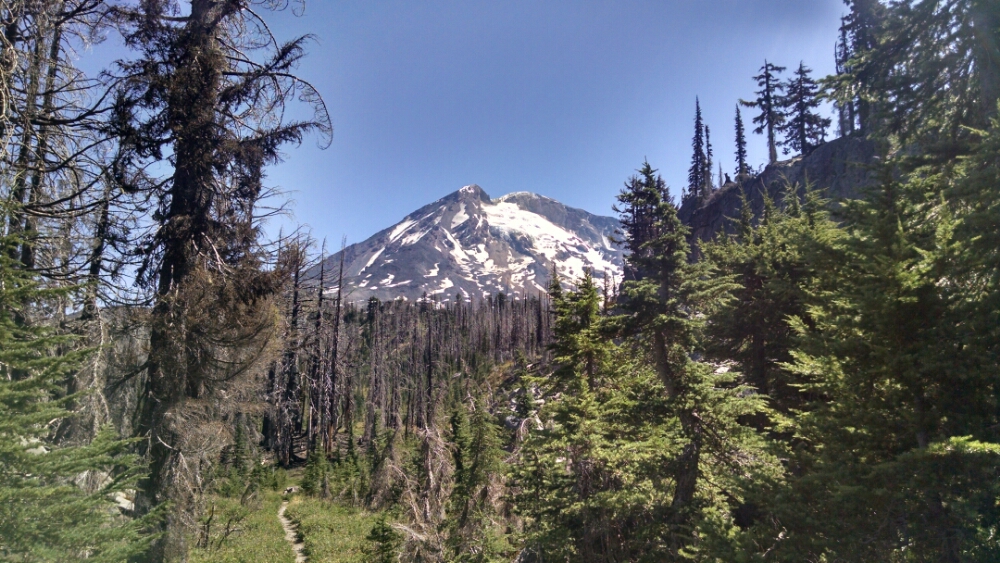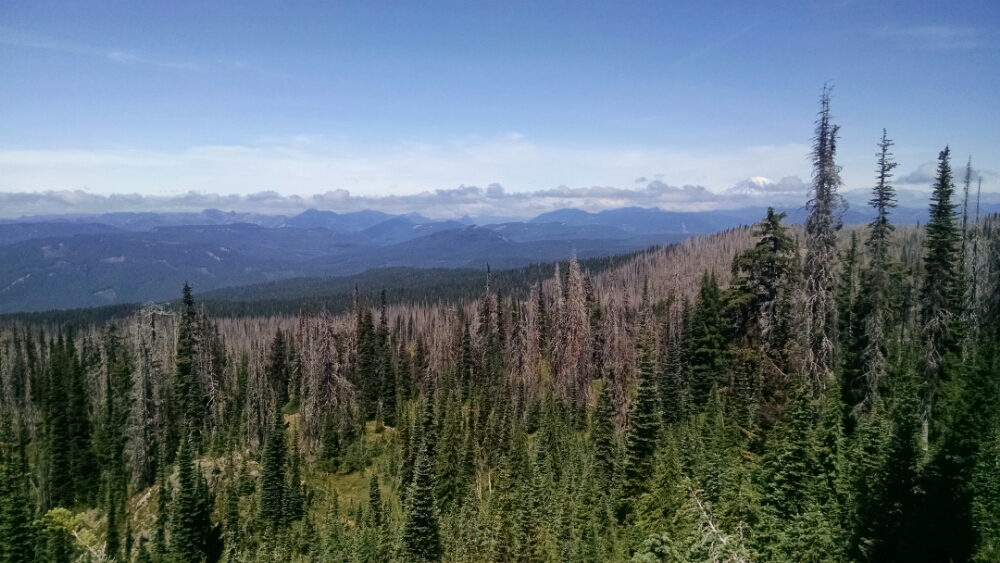 The trail went around three sides of Mt. Adams so I got to see a lot of it.
As I was coming around a corner, I saw two bucks startle and run across the trail and into the woods. The deer are much bigger here than in California. But the amazing thing about this encounter was not the deer, but the coyote that ran out into the trail chasing them! The coyote paused on the trail when it sensed me, deciding what to do. Then it took off into the woods in the direction of the deer, but at a slow pace. It happened so quickly, I couldn't even think to take out my camera before all of the wildlife was out of sight.
Later in the evening I approached a lake and heard the sound of two large animals crashing through the brush. I looked and saw two elk butts receding quickly into the distance. I don't know if it's the noise I make or my smell that scares the animals more!
There was also a small section of lava that I walked through, with a glimpse of Mt. Ranier in the background.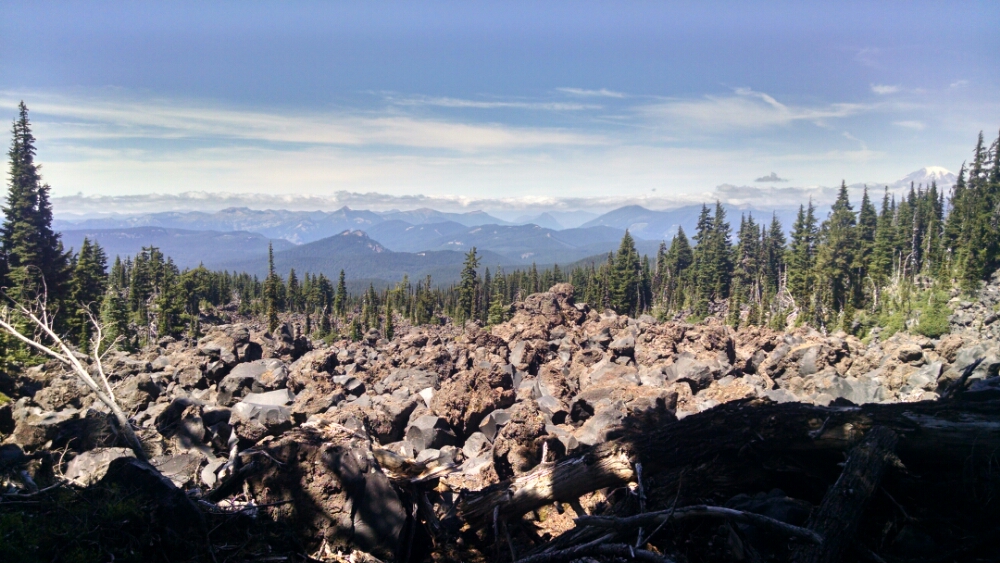 It's getting more exciting again and I'm feeling better about being on the trail. It's only 400 miles to Canada and for the first time in a while I'm a bit sad about that.